Misc
Published on September 18th, 2023 | by AlexandreG.
0
Jimi Hendrix Formed "The King Casuals" Following His Controversial Military Service in the US Army
---
The rock and roll universe has countless tales, but few as intriguing as Jimi Hendrix's stint at the Military Service. Before achieving rock stardom, Jimi Hendrix served as a young parachutist in the renowned 101st Airborne Division of the U.S. Army. Though his military stint was brief, it proved pivotal for his musical journey rather than his army career.
Jimi Hendrix had always been musically inclined, and the army was no place to stifle that passion. Soon after his enlistment in 1961, he found himself crossing paths with like-minded servicemen. This group of soldiers had more than just their uniforms in common. They shared an immense passion for music, and Jimi Hendrix, with his distinct approach to guitar playing, quickly became the unofficial leader.
During Jimi Hendrix's brief but transformative stint in the US Army, one name stood out as a significant collaborator: Billy Cox. The two met during their time in service, and the bond they forged over music would eventually lead to the formation of 'The King Kasuals', a name that symbolized their relaxed yet committed approach to music.
Both Jimi Hendrix and Billy Cox were stationed at Fort Campbell, Kentucky, and their shared passion for music became the bridge that brought them together. While the Army's regimented lifestyle might seem like an unlikely incubator for a rock band, it was within this structure that Jimi Hendrix and Billy Cox began to collaborate, find their sound, and lay the groundwork for future projects.
Billy Cox, in later interviews, often recalled the army days with fondness. "The King Kasuals was where it all started. That raw energy, the passion — it was all there, even then," Cox mentioned in a chat with Rolling Stone. Their military background, unlikely as it seems, provided the discipline that complemented their creative spirits.
Though 'The King Kasuals' did not last long post their military service, the bond between Jimi Hendrix and Billy Cox remained unbroken. They would later reunite and collaborate on multiple projects, the most notable being the Band of Gypsys.
What did Jimi Hendrix get discharged for?
In 1962, during his military training at Fort Campbell, Kentucky, Jimi Hendrix encountered an unforeseen event. During his 26th parachute jump, he sustained an ankle injury, rendering him unable to meet the military's demanding physical standards, leading to his honorable discharge.
Jimi Hendrix's tenure in the Army was significantly shorter than the usual three-year commitment. The reasons behind his premature exit remain a topic of debate and speculation. Some suggest disciplinary issues arose due to his alleged "displaying homosexual tendencies" and other indiscretions in the restroom.
Concerns about Jimi Hendrix's suitability for military life also emerged. He struggled with physical training assessments and often missed required activities, such as bed checks. His marksmanship skills left much to be desired, and on occasion, he was allegedly caught asleep when he should have been alert.
After his military chapter closed, Jimi Hendrix's focus shifted back to his first love: music. Relocating to the musical hub of Nashville, he honed his craft as a session guitarist, working alongside R&B greats like Little Richard and the Isley Brothers. This period provided him with invaluable experience and networking opportunities.
Who was in the Jimi Hendrix band called the King Kasuals?
The King Kasuals, formed in 1962, was the brainchild of Billy Cox and Jimi Hendrix, both of whom had recently been discharged from the U.S. Army. Initially making their mark in the Nashville music scene, the band saw a leadership transition when Johnny Jones took the helm after Jimi Hendrix's departure in 1964.
As the years progressed, The King Kasuals showcased their versatility by releasing several singles, notably offering their rendition of Jimi Hendrix's iconic 'Purple Haze' after its success with The Experience in the late 1960s. With time and the prominence of Johnny Jones, the band's name eventually evolved to 'Johnny Jones and The King Kasuals'.
Jimi Hendrix's Time as a Backup Musician
Fresh out of the military, Jimi Hendrix began to weave his path in the music industry. While he later skyrocketed to global stardom, there was a period where he diligently worked behind the scenes, showcasing his undeniable talent as a backup musician for numerous renowned artists.
First on the roster was none other than the dynamic Little Richard. Being a part of Richard's backing band, The Upsetters, Jimi Hendrix got a firsthand experience of the rigorous touring schedules and the energy of live stage performances. Little Richard, known for his vivacious stage presence and powerful vocals, presented a platform where Hendrix could observe and learn. Yet, even in this setting, Hendrix's unique flair on the guitar couldn't remain hidden. Often, his embellishments and improvisations would steal the spotlight, highlighting his prodigious skill.
Another significant collaboration was with the Isley Brothers. Jimi Hendrix's tenure with this group was marked by the recording of the track "Testify." Here, Jimi Hendrix's guitar play served as the perfect complement to the Isleys' rich vocal harmonies. This experience was pivotal; it allowed him to explore the realms of recording, understanding the nuances of creating a track that resonates with listeners beyond the live stage.
Curtis Knight was another artist who recognized the goldmine that was Jimi Hendrix. Their partnership was not just confined to stage performances but extended to studio recordings as well. Tracks like "How Would You Feel" and "Hornet's Nest" captured Jimi Hendrix's evolving style. The synthesis of Knight's vocals with Jimi Hendrix's guitar riffs created memorable tracks that showcased the best of both worlds.
Beyond these primary collaborations, Jimi Hendrix's services were also enlisted by Rosa Lee Brooks. The track "My Diary," which they worked on together, bore the unmistakable touch of Jimi Hendrix's guitar work. This was yet another testament to his versatility, as he seamlessly blended into varying musical styles, each time adding a touch of his unique signature.
His association with King Curtis provided a different avenue for growth. As Jimi Hendrix accompanied Curtis, a master saxophonist, it offered him a fresh perspective. The blend of saxophone and guitar in their performances added a jazz-infused touch to the rhythm and blues foundation they often played upon.
One of the fascinating aspects of this phase in Hendrix's career was his adaptability. He didn't just merge into the background; he synergized with the leading artists, enhancing their music while simultaneously refining his craft. This period, often overlooked given the colossal achievements that followed in Hendrix's solo career, was instrumental in shaping the artist he became. Each collaboration, each performance, imparted valuable lessons.
It's crucial to acknowledge that while Hendrix's contributions were stellar, occasionally, his style did clash with the more traditional expectations of the headlining artists. Instances where his extravagant guitar play overshadowed the main act sometimes led to tensions. However, these very attributes, which might have been deemed excessive in a backup role, later became the hallmarks of his unparalleled success as a leading artist.
Reflecting upon this phase, it becomes evident that Jimi Hendrix was never destined for the background. Even as he supported other artists, his star quality was palpable. The world of music was merely getting a teaser of the genius that was soon to dominate stages globally, leaving an indelible mark on the fabric of music history.
What happened to Jimi Hendrix after leaving the King Kasuals?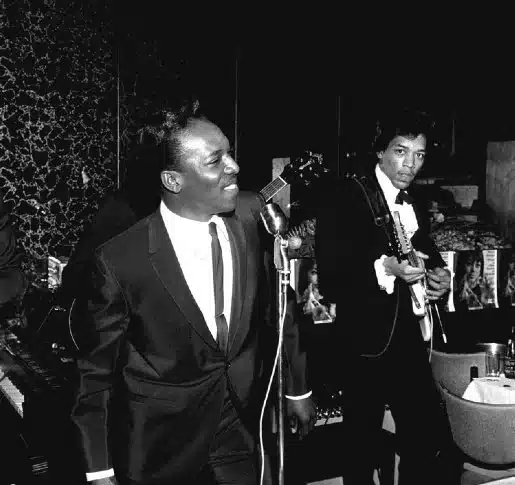 After his time with The King Kasuals, Hendrix navigated towards a path that solidified his status as a monumental figure in the music industry. New York City, with its bustling music scene, became the backdrop for this phase. Taking up residence in Harlem, Hendrix frequently performed at various venues, even securing first place in the Apollo Theater's amateur contest on several occasions. Such accolades started bringing him into the limelight, making him a local sensation.
Jimi Hendrix wasn't just satisfied with solo performances. Recognizing the importance of collaboration and networking, he worked alongside numerous established artists. The mid-1960s saw Jimi Hendrix functioning as a supporting guitarist for household names, such as Little Richard and the Isley Brothers. A significant collaboration was with Curtis Knight. Playing with different artists allowed Jimi Hendrix to explore various genres, enhancing his versatility and knowledge of the craft.
The real game-changer, however, was a chance encounter with Chas Chandler in 1966. Chandler, an established name in the music scene as the bassist of The Animals, immediately recognized the potential in Jimi Hendrix. This serendipitous meeting led to Chandler becoming Jimi Hendrix's manager, subsequently shifting Jimi Hendrix's base to London. The London music scenario was booming, and for an ambitious musician like Jimi Hendrix, this was the ideal environment.
In the UK, Hendrix formed the legendary 'Jimi Hendrix Experience' with Mitch Mitchell and Noel Redding. Their debut single, "Hey Joe," was an instant hit, climbing the UK charts rapidly. This success was quickly followed by other hits like "Purple Haze" and "The Wind Cries Mary," each track becoming synonymous with Hendrix's signature style: a blend of rock, blues, and soul with experimental guitar riffs.
Hendrix's shows weren't just about the music; they were a spectacle. His on-stage energy, combined with his unique guitar-playing techniques — such as playing with his teeth or behind his back — made him an instant sensation in Europe. This burgeoning European success soon translated back to his home ground when he returned to the US for the iconic Monterey Pop Festival in 1967.
At Monterey, Jimi Hendrix made a statement that echoed through the music world: setting his guitar aflame after a riveting performance. This act, combined with his unparalleled musical skills, ensured that the American audience could no longer remain oblivious to his genius.
The subsequent years were marked by a series of successes. Albums like "Axis: Bold as Love" and "Electric Ladyland" were testimonies to Hendrix's evolving style, showcasing his penchant for blending genres and pushing boundaries. As Hendrix's success grew, so did his experimental approach to music, leading to iconic performances at events like Woodstock in 1969.
Yet, the journey wasn't always smooth. The pressures of fame, coupled with personal challenges, often weighed heavy on Jimi Hendrix. But through every hurdle, his commitment to music remained unwavering, making him a figure of inspiration for countless artists.
In reflecting upon Jimi Hendrix's meteoric rise, one thing becomes abundantly clear: his passion, dedication, and raw talent were unmatched. Through every chord and performance, Hendrix left an indelible mark on the music industry and the hearts of fans worldwide.
---
---
---