Misc
Published on August 31st, 2023 | by AlexandreG.
0
All you need to know about Jimi Hendrix at Isle of Wight Festival
---
In 1969, the Isle of Wight Festival, situated on the picturesque Isle of Wight off the south coast of England near the town of Newport, had already made its mark on the music world, hosting a plethora of eminent acts and setting the stage for an even grander event the following year.
By 1970, the festival's lineup promised an unparalleled musical experience. With legends like The Who, The Doors, Joni Mitchell, Leonard Cohen, and Emerson, Lake & Palmer on the bill, excitement was palpable. But the buzz around Jimi Hendrix's performance was unmatched. As over 600,000 attendees descended upon Seaclose Park, few could have imagined the lasting impact this festival would have. Just three weeks later, the world would be rocked by the tragic loss of Hendrix.
The combination of its idyllic location, star-studded lineup, and the poignant timing of Hendrix's performance makes the 1970 Isle of Wight Festival a landmark event in rock history.
Did Jimi Hendrix play at the Isle Of Wight Festival?
Jimi Hendrix, accompanied by his bandmates Billy Cox on bass and Mitch Mitchell on drums, headlined the Isle of Wight Festival in 1970 as one of its primary attractions. This trio, often referred to as the "Cry of Love" band, shared a unique chemistry, allowing Hendrix to showcase his guitar prowess at its finest. In front of a massive crowd, their performance was both electrifying and poignant.
Given that this was one of Hendrix's last major performances before his untimely death, the synergy between him and his bandmates took on an even more profound significance. As the festival's standout act, they not only solidified Hendrix's legendary status in rock but also celebrated the collective talent of the trio, delivering a performance that remains etched in music history.
How old was Jimi Hendrix when he played at the Isle of Wight Festival?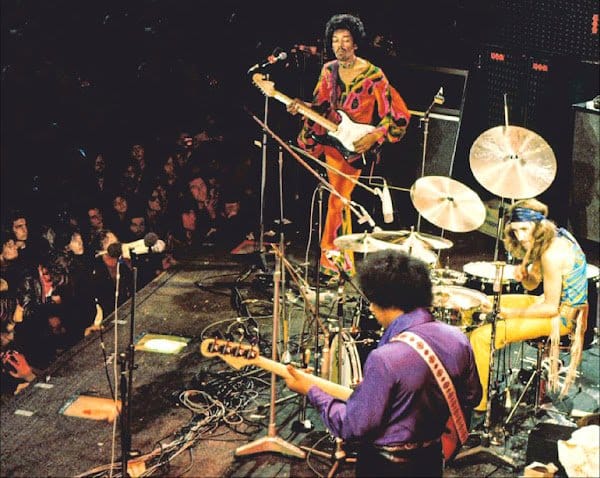 Jimi Hendrix, born on November 27, 1942, was 27 years old when he electrified the audience at the Isle of Wight Festival on August 30, 1970. His untimely death shortly after, on September 18, 1970, tragically inducted him into the "27 Club" — a term used to describe a group of influential musicians who all died at the age of 27. This group includes other legends such as Janis Joplin, Kurt Cobain, Amy Winehouse, Brian Jones, and Jim Morrison.
The reverence other musicians held for Hendrix is evident in the words of Eric Clapton: "After Pete Townshend and I had seen Jimi play, we went to see Mitch Mitchell to ask him if he would mind if we borrowed Jimi to form a supergroup. Mitch said Jimi wouldn't be interested, and he was right. Jimi wanted to do his own thing."
What songs did Jimi Hendrix play at the Isle of Wight Festival?
Jimi Hendrix's performance at the Isle of Wight Festival, is renowned not only for its musical brilliance but also for the challenges he faced during the set. Among the technical difficulties encountered were feedback issues and interferences from walkie-talkies with Jimi's guitar sound. Despite these setbacks, Hendrix's sheer talent and professionalism shone through.
One of the major highlights of the concert was his live rendition of "All Along the Watchtower," a Bob Dylan cover that Hendrix had made uniquely his own. Given that there are few live recordings of Hendrix playing this song, this performance stands out as a particularly special moment. Even amidst the technical challenges, his interpretation of the song showcased his unparalleled guitar virtuosity and emotive delivery.
Here's a setlist that Hendrix played during the festival
Jimi Hendrix's Isle of Wight setlist:
"God Save the Queen"
"Sgt. Pepper's Lonely Hearts Club Band"
"Spanish Castle Magic"
"All Along the Watchtower"
"Machine Gun"
"Lover Man"
"Freedom"
"Red House"
"Dolly Dagger"
"Midnight Lightning"
"Foxey Lady"
"Message to Love"
"Hey Baby (New Rising Sun)"
"Ezy Ryder"
"Hey Joe"
"Purple Haze"
"Voodoo Child (Slight Return)"
"In from the Storm"

How much did Jimi Hendrix get paid for the gig?
Jimi Hendrix was reportedly paid approximately $43,200 for his performance at the Isle of Wight Festival. When adjusted for U.S. inflation, this amount is roughly equivalent to between $280,000 to $300,000 in 2023. In comparison, another major act, The Who, received around $26,880 for their set at the same festival.
Ray Foulk, one of the festival's co-organizers, was once quoted saying, "Booking Jimi was a no-brainer. At the time, he was arguably the highest-paid musician in the world and for good reason. There was nobody quite like him."
What guitar did Jimi Hendrix use at the festival?
Jimi Hendrix played a black Fender Stratocaster, which stands out as one of the iconic images from that performance. Interestingly, just a year earlier, during his legendary performance at Woodstock in 1969, Hendrix played a white Fender Stratocaster.
That white Strat became one of the most iconic guitars in rock history, especially associated with his rendition of "The Star-Spangled Banner." The contrast between the two guitars in such significant performances underscores Hendrix's preference for the Fender Stratocaster model, but also showcases his flexibility in guitar color choices for major events.
---
---