Misc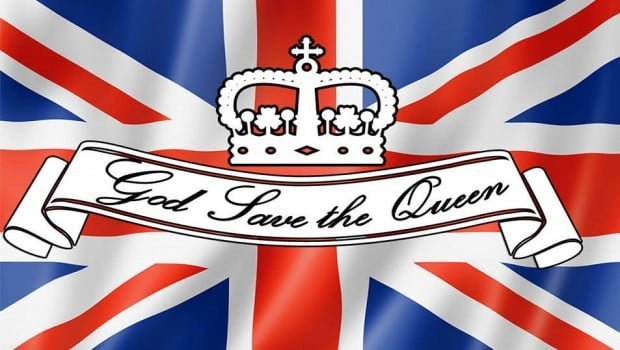 Published on March 21st, 2016 | by AlexandreG.
0
A new National Anthem?
Despite all of the recent furore over the European Referendum and Scottish Independence, it seems that our nation's leaders are also becoming increasingly concerned with the issue of the national anthem.
According to a recent report by the Daily Telegraph, it seems that MPs are keen to engineer a petition that could lead the way to England's sports teams singing a new English national anthem as opposed to the United Kingdom national anthem, God Save The Queen.
As a result, there's been plenty of speculation in the betting world and beyond as to what a likely substitute song could be. Given that Adele pretty much owned the music industry in 2015, she's amongst the front-runners to lead the charge for this prestigious accolade.
However, given Adele's penchant for morose ballads, and the volatile outbursts over Sam Smith's underwhelming recent James Bond song, many are expecting that we'll take a look into the past for our national anthem inspiration.
Some of the main suggestions are currently now online at Betway.com that seems to suggest that it will be the deeply traditional songs like Jerusalem, Land of Hope and Glory and I Vow Thee To My Country.
But seeing as the nation reached its last true burst of patriotic fervour in the 1990s, it's no surprise to find many 1990s songs in the running too. Key amongst these is Baddiel & Skinner's footballing anthem Three Lions that at least has a proven track record as being a terrace-friendly sing-a-along.
Other 1990s musical time-capsules that also feature as potential winners include Oasis' Wonderwall and Blur's Parklife, despite the fact that few people know the words to the songs, and nobody knows what they mean anyway.
Delving further back in time we find Queen's We Are The Champions fulfilling all stereotypes of sporting glory with an amusingly-subtle camp twist, whereas The Beatles' Hey Jude is a good outside favourite as it has a four-minute wordless 'na-na-na' outro that even the most inebriated sports fan could remember.
However, despite all of the speculation, it's important to remember that we are ultimately a nation of traditionalists at heart. And this is why many bookmakers still hold out to the fact that the majority of English sports fans would prefer to keep singing along to God Save The Queen rather than branch out into any other more unfamiliar fare.