Misc
Published on March 3rd, 2014 | by AlexandreG.
0
The Best Irish Rock Bands You Have to Listen (Also on Saint Patricks Day)

Dropkick Murphys
This hardcore punk/Celtic folk band, beloved amongst the punk community, was formed in Quincy, Massachusetts, in 1996. 'Tessie' became the band's first hit back in 2004, and the band's only Platinum-selling single to date, and one of their best-known songs , 'I'm Shipping Up to Boston', was featured in the 2006 Academy Award-winning movie The Departed.
While Dropkick Murphys move on to Warner Bros. Records they debut 2007's 'The Meanest of Times' at No. 20 on the Billboard charts and featured the successful single, 'The State of Massachusetts'. In 2011's 'Going Out in Style' charted even better at No. 6, giving the band their highest-charting album to date.
Dropkick Murphys have released 8 albums and 24 singles, and celebrate every St. Patrick's Day with live performances.
---
The Waterboys
Mike Scott formed The Waterboys in 1983. Its difficult to characterized the band´s style given the fact that since their foundation they played different styles of music but mostly a mix of Celtic folk music with rock and roll. After they dissolved in 1993, Mike Scott pursued a solo career, then in 2000 The Waterboys eventually reunited again. They has had over 50 members in band's career!
Their most recognizable songs are, 'How Long Will I Love You', 'Fisherman's Blues' and 'The Whole Of The Moon' that wasn't a big success when initially released in 1985, but when reissued in 1991 it became one of The Waterboys' best-known songs and their most commercially successful to date.
Is well know the influences of the band on many artist such as Eddie Vedder, The Decemberists, U2 and Radiohead among others. The Waterboys are amongst the most talented Irish musicians ever, and through the years the band has had over 50 members!
---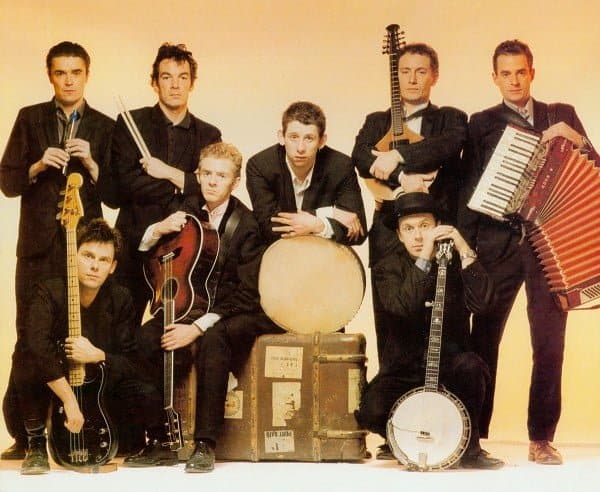 The Pogues
The Pogues are a Celtic punk band from London, formed in 1982. The band reached international recognition with their albums released from 1984 to 1990 with the legendary lead vocalist Shane MacGowan. The Clash frontman Joe Strummer was asked by The Pogues to help them produce 'Hell's Ditch' from 1990, in the next year he replaced Shane MacGowan as singer of The Pogues for a tour after MacGowan's departure from the band due to drinking problems. Since 2001 MacGowan still reunites with the group for occasional tour.
Their music was vastly influenced by MacGowan and Stacy's punk backgrounds, yet they used traditional Irish instruments such as the tin whistle, cittern, mandolin and accordion. We can clearly say that The Pogues are truly the founders of the Celtic punk movement, blending traditional Irish Folk with politics and punk rock energy, they paved the way for many bands.
---
The Undertones
John Peel, the late Radio 1 legend, commonly listed 'Teenage Kicks' by The Undertones as the perfect pop record, and his favorite track of all time.
This punk rock/new wave band formed in Derry, Northern Ireland, in 1975, released four albums and thirteen singles before Feargal Sharkey announced his intention to leave the band in 1983, citing musical differences as the reason for the break up.
---
My Bloody Valentine

My Bloody Valentine are an alternative rock band formed in Dublin, Ireland in 1983. Known for their use of distortion, pitch bending, and digital reverse reverb, have done two studio albums: 'Isn't Anything' (1988) and 'Loveless' (1991). This last one is considered to be one of the best albums of the 1990s, was a major critical success.
My Bloody Valentine later disbanded in 1997, but in 2007 they reunited to tour across the Europe and released their third album  'm b v' in 2013 (produced by vocalist and guitarist Kevin Shields) for a highly critical positive, with the album receiving acclaim from most critics.
---
The Cranberries
Formed in Limerick in 1990, The Cranberries rose to international fame with their debut album, 'Everybody Else Is Doing It, So Why Can't We?' , written entirely by the band's lead singer Dolores O'Riordan and guitarist Noel Hogan, was released in 1993 which became a commercial success.
The group was one of the most successful rock acts of the '90s and sold over 40 million albums worldwide. They also achieved four top 20 albums on the Billboard 200 chart and eight top 20 singles on the Modern Rock Tracks , most notably: 'Linger', 'Zombie', and 'Ode To My Family'.
---
Thin Lizzy

The creative force? Phil Lynott. The band? Thin Lizzy. This Irish rock band was formed in Dublin by 1969 and they were popular with hard rock and heavy metal fans in the mid 1970's much because the huge hit 'The Boys Are Back In Town', a song beloved in America that talks about the joys of working class guys out for a night on the town.
'Whiskey in the Jar', 'Jailbreak' and 'The Boys Are Back in Town' are the best known songs. Among the past members of the band is the Northern Irish virtuoso guitarist Gary Moore, who have died in 2011 of a heart attack. In 1986 a cocktail of heroine, cocaine and alcohol stopped Phil Lynott heart. He was 35.
---
Rory Gallagher
Guitarist, singer, and songwriter Rory Gallagher accomplished a lot in the blues music world. Born in Ballyshannon, County Donegal, Irish Republic, on March 2, 1948, since he was a boy he had a wide range of influences, including Leadbelly, Buddy Guy, Freddie King, Albert King, Muddy Waters, and John Lee Hooker.
Though he sold over thirty million albums worldwide, it was his marathon live performances that won him greatest acclaim. He is documented in the 1974 film Irish Tour '74, where you can testify so.
---
Van Morrison
Van Morrison is Northern Irish, born in Belfast in 1945, and considered by many one of the greatest singers of all time. Since the beginning of his career he has explorer soul, jazz, blues, rhythm & blues, rock and roll and Celtic folk.
Them was the first band in 1964-66 that first broke Morrison on the international scene, covering such artists as James Brown, Fats Domino, Bobby "Blue" Bland, T-Bone Walker, Slim Harpo and Ray Charles. After that, with more than forty (!) albums in his discography, he is best known for his work in 'Astral Weeks' and 'Moondance' and in the live album 'It's Too Late to Stop Now', which are critically acclaimed and appear at the top of many greatest album lists.
Morrison's influence can be heard in the music of a diverse range of artists/music such as: Bruce Springsteen to Elvis Costello, Bono of U2 once have said: 'I am in awe of a musician like Van Morrison. I had to stop listening to Van Morrison records about six months before we made The Unforgettable Fire because I didn't want his very original soul voice to overpower my own'; Nick Cave, Tom Petty, Elton John and Bob Seger who once said: 'I know Bruce Springsteen was very much affected by Van Morrison, and so was I', among many others.
---
U2
U2 are a Irish rock band from Dublin  formed in 1976.  In this early years U2 sound was rooted in post-punk but eventually grew to incorporate influences from many genres of popular music. They have twelve studio albums, one live album, nine compilations albums, fifty-seven singles, and eight EPs.
It is not surprising that the band were inducted into the Rock and Roll Hall of Fame in early 2005, much of the fault was from their influence on pop music. With the exception of their first three singles , all the following band's singles have charted (eight No.1 singles on the U.S. Modern Rock charts), and have sold more than 150 million records! Enough Said.
---