Misc
Published on January 9th, 2014 | by AlexandreG.
0
Musicians That Died at Age 27: Causes of Death
---
Discover the mysterious circumstances surrounding the untimely deaths of renowned musicians who all passed away at the young age of 27. In this article, we dive into the lives and deaths of iconic artists such as Robert Johnson, Rudy Lewis, Brian Jones, Alan "Blind Owl" Wilson, Jimi Hendrix, Janis Joplin, Jim Morrison, Ron "Pigpen" McKernan, Dave Alexander, Kurt Cobain, Kristen Pfaff, Richey James Edwards and Amy Winehouse.
Explore the various theories surrounding their deaths, including possible murder, drug overdose, asphyxiation, and heart failure. Read the controversies and speculation surrounding the circumstances of their demise and the impact their deaths had on the music industry and their legacies.
From the enigmatic blues legend Robert Johnson to the influential rock icons Jimi Hendrix and Kurt Cobain, join us on a journey to understand the tragic fate of these remarkable artists and the indelible mark on the history of music they made.
---
27 Club: Causes of Death
Robert Leroy Johnson (May 8, 1911 – August 16, 1938)
Robert Johnson died on August 16, 1938, at the age of 27, near Greenwood, Mississippi. Although the cause of death is still unknown, there have been a number of theories based on several differing stories about the events preceding his death.
According to one theory, Johnson was murdered by the jealous husband of a woman with whom he had flirted. In an account by fellow blues legend Sonny Boy Williamson, Johnson had been flirting with a married woman at a dance, where she gave him a bottle of whiskey poisoned by her husband. When Johnson took the bottle, Williamson knocked it out of his hand and advised him to never drink from a bottle that he had not personally seen opened. Johnson replied, 'Don't ever knock a bottle out of my hand.' Soon after, he was offered another (poisoned) bottle and accepted it. Johnson is reported to have begun feeling ill the evening after and had to be helped back to his room in the early morning hours. Over the next three days his condition steadily worsened and witnesses reported that he died in a convulsive state of severe pain.
While strychnine has been suggested as the poison that killed Johnson, at least one scholar has disputed the notion. David 'Honeyboy' Edwards noted that the poison couldn't have been strychnine, since Johnson would have died much more rapidly, instead of suffering for three days.
---
Rudy Lewis (August 23, 1936 – May 20, 1964)
On May 21, 1964, when The Drifters was due to record 'Under The Boardwalk', which had been written for Rudy Lewis, he was found dead in his Harlem hotel room from the prior night. Former lead vocalist Johnny Moore was brought back to perform lead vocals for the recording. The next day, The Drifters recorded 'I Don't Want To Go On Without You', which was led by Charlie Thomas in tribute to Lewis. Charlie Thomas was the one who closed Lewis' eyes when he was found dead.
An autopsy was never performed and authorities ruled his death as a probable drug overdose. However, close friends and family believe he died from a mixture of a drug overdose, asphyxiation and a heart attack.
---
Brian Jones (February 28, 1942 – July 3, 1969)
Brian Jones was discovered immovable at the bottom of his swimming pool, at around midnight on the night of 2–3 July 1969. His Swedish girlfriend, Anna Wohlin, was convinced Jones was alive when he was taken out of the pool insisting he still had a pulse. However, by the time the doctors arrived he was pronounced dead. The coroner's report stated 'death by misadventure' and noted his liver and heart were heavily enlarged by drug and alcohol abuse.
As an unfortunate curiosity, upon Jones's death, Jimi Hendrix dedicated a song to him on US television, and Jim Morrison published a poem entitled 'Ode to L.A. While Thinking of Brian Jones, Deceased'. Hendrix and Morrison died within the following two years, both aged 27, the same as Jones.
---
Alan "Blind Owl" Wilson (July 4, 1943 – September 3, 1970)
Alan Wilson died in Topanga Canyon, California at age 27. After an autopsy, his death was listed as acute barbiturate intoxication. Although Wilson had reportedly attempted suicide beforeand his death is sometimes reported as a suicide, this is not clearly established and he left no note.
Wilson was interested in preserving the natural world, particularly the redwood trees. When he died so too did the Music Mountain organization he had initiated dedicated to this purpose. In order to support his dream, Wilson's family has purchased a 'grove naming' in his memory through the Save the Redwood League of California. The money gifted to create this memorial will be used by the League to support redwood reforestation, research, education, and land acquisition of both new and old growth redwoods.
---
Jimi Hendrix (November 27, 1942 – September 18, 1970)
Jimi Hendrix spent much of September 17 in London with Monika Dannemann, the only witness to his final hours. Dannemann found Hendrix breathing, but unconscious and unresponsive. She called for an ambulance and they arrived on the scene ten minutes later. Paramedics then transported Jimi Hendrix to Hospital where Dr. John Bannister pronounced him dead at 12:45 p.m. on September 18, 1970.
A post-mortem examination on Hendrix's body, was performed on September 21 by Professor Robert Donald Teare, a forensic pathologist. Thurston completed the inquest on September 28, and concluded that Hendrix aspirated his own vomit and died of asphyxia while intoxicated with barbiturates. Dannemann later revealed that Hendrix had taken nine of her prescribed Vesparax sleeping tablets, 18 times the recommended dosage.
---
Janis Joplin (January 19, 1943 – October 4, 1970)
Road manager, John Cooke, drove to the Landmark Motor Hotel in Hollywood where Janis was staying, after Janis Joplin failed to show up at Sunset Sound Recorders for a recording session. Upon entering Joplin's room  he found her dead on the floor beside her bed.
The official cause of death was an overdose of heroin, possibly compounded by alcohol. Cooke believes that Joplin had accidentally been given heroin that was much more potent than normal, as several of her dealer's other customers also overdosed that week.
---
Jim Morrison (December 8, 1943 – July 3, 1971)
In March 1971, Jim Morrison joined Pam Courson in Paris and they took up residence in the city. During this time, Morrison shaved his beard and lost some of the weight he had gained in the previous months. It passed only four months when he died on July 3, 1971 at age 27. Officially Courson found Morrison dead in the bathtub of their apartment.
The absence of an official autopsy has left many questions regarding Morrison's cause of death, but the the coroner's report listed his cause of death as heart failure. According to Danny Sugerman (the second manager of The Doors), Courson stated that Morrison had died of a heroin overdose, having inhaled what he believed to be cocaine. Sugerman added that Courson had given him numerous contradictory versions of Morrison's death, saying at times that she had killed Morrison, or that his death was her fault. Pam Courson would eventually died on April 25, 1974, of a heroin overdose. She had…27 years old.
---
Ron 'Pigpen' McKernan (September 8, 1945 – March 8, 1973)
In 1970, McKernan began experiencing symptoms of congenital biliary cirrhosis. He would became hospitalized in August 1971, while the doctors requested that he stop touring indefinitely. Nonetheless, the founding member of the Grateful Dead rejoined the band in December 1971 to supplement Godchaux on harmonica, percussion, and organ. After their Europe '72 tour, his health had degenerated to the point where he could no longer continue on the road. He made his final concert appearance on June 17, 1972, at the Hollywood Bowl, in Los Angeles, California.
On March 8, 1973, he was found dead of a gastrointestinal hemorrhage at his home in Corte Madera, California. Contrary to the popular belief that he died from cirrhosis caused by excessive alcohol consumption, he in fact succumbed to Crohn's disease which also claimed the life of his brother Kevin.
---
Dave Alexander (June 3, 1947 – February 10, 1975)
The original bassist of The Stooges was fired from the band in August 1970 after showing up at the Goose Lake International Music Festival too drunk to play. Dave Alexander died of pulmonary edema in 1975 in Ann Arbor after being admitted to a hospital for pancreatitis, which was linked to his drinking.
These days Dave Alexander would have a higher probability of survival, due to the advances in medicine.
---
Kurt Cobain (February 20, 1967 – April 8, 1994)
Following a tour stop on March 1, 1994, Kurt Cobain was diagnosed with bronchitis and severe laryngitis. He flew to Rome the next day for medical treatment, and was joined there by his wife, Courtney Love, on March 3, 1994. The next morning, Love awoke to find that Cobain had overdosed on a combination of champagne and Rohypnol. Cobain was immediately rushed to the hospital, and spent the rest of the day unconscious. After five days in the hospital, Cobain was released and returned to Seattle.  Love later stated that the incident was Cobain's first suicide attempt.
On March 18, 1994, Love phoned the Seattle police informing them that the Nirvana frontman was suicidal and had locked himself in a room with a gun. Police arrived and confiscated several guns and a bottle of pills from Cobain, who insisted that he was not suicidal and had locked himself in the room to hide from Love. When questioned by police, Love said that Cobain had never mentioned that he was suicidal and that she had not seen him with a gun.
After weeks wandering alone, on April 8, 1994, Cobain's body was discovered at his Lake Washington home by an electrician named Gary Smith who had arrived to install a security system. The report of the Seattle Police Department on the incident states that Kurt Cobain was found with a shotgun next to his body, he had a visible head wound. A high concentration of heroin and traces of diazepam was found in his body and there was a suicide note discovered next to it with the final emblematic phrase before the greetings, 'it's better to burn out than to fade away', a quote from the lyrics of Neil Young's song 'Hey Hey, My My (Into the Black)'. Cobain's body had been lying there for days; the coroner's report estimated Cobain to have died on April 5, 1994.
---
Kristen Pfaff (May 26, 1967 – June 16, 1994)
Pfaff was the bass guitarist and a founding member of the Minnesota group Janitor Joe, and more famously, Hole. On the morning of June 16, 1994, Kristen Pfaff was found dead in her apartment by Paul Erickson, a friend with whom she had planned to leave for Minneapolis that day. On the floor there was a bag containing syringes and drug paraphernalia. Pfaff's death was attributed to 'acute opiate intoxication' which probably caused respiratory arrest.
Strangely, while there was no evidence of foul play of suicidal intent, Pfaff's mother has never accept the official account of her daughter's death. She apparently alleges that there was a sinister connection between Cobain's death and Kristen's.
---
Richey James Edwards (December 22, 1967 – February 1, 1995)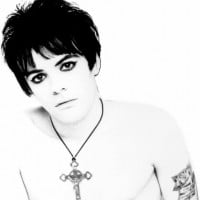 Richey James Edwards disappeared on 1 February 1995, on the day when he and James Dean Bradfield were due to fly to the US on a promotional tour. On February 7, a taxi driver from Newport supposedly picked up Edwards from the King's Hotel in Newport, and drove him around the valleys, including Blackwood (Edwards' home as a child). On February 14, Edwards' Vauxhall Cavalier received a parking ticket at the Severn View service station and on February 17, the vehicle was reported as abandoned. Police discovered the battery to be flat, with evidence that the car had been lived in.
Described as a tortured genius, it is widely believed that Edwards, took his life by jumping from the Severn Bridge although no body has ever been found. Many people who knew him, however, have said that he was never the type to contemplate suicide.
Since then he has reportedly been spotted in a hippie market in Goa, India and on the islands of Fuerteventura and Lanzarote. There have been other alleged sightings of Edwards, especially in the years immediately following his disappearance.However, none of these has proved conclusive and none has been confirmed by investigators. While his family had the option of declaring him legally dead from 2002, they had chosen not to for many years, and his status remained open as a missing person, until 23 November 2008, when he became officially 'presumed dead'.
---
Amy Winehouse (September 14, 1983 – July 23, 2011)
Amy Winehouse had a well-documented drug habit, regularly using heroin, crack cocaine and cannabis – but had stopped taking drugs before a trip to St Lucia, where her alcohol consumption became increasingly problematic. She died of alcohol poisoning after binge drinking following a period of abstinence.
The singer was found dead in her flat in Camden, north London, on the afternoon of Saturday 23 July 2011. Winehouse's bodyguard said that he arrived at her residence three days before her death and felt she was somewhat intoxicated. He also observed her lying on her bed and tried unsuccessfully to rouse her. This did not raise much suspicion because she usually slept late after a night out. According to the bodyguard, hours later, he checked on her again and observed her lying in the same position as before, leading to a further check, in which he concluded that she was not breathing and had no pulse. He said he subsequently called emergency services.
Two ambulances were called to Winehouse's home in Camden, London. Winehouse was pronounced dead at the scene. Forensic investigators recovered one small and two large bottles of vodka from her room. A coroner's inquest reached a verdict of misadventure. The report released on 26 October 2011 explained that Winehouse's blood alcohol content was 416 mg per 100ml at the time of her death. According to the coroner, 'The unintended consequences of such potentially fatal levels was her sudden death.'
On 17 December 2012, British authorities reopened the probe of Winehouse's death, . On 8 January 2013, a second inquest confirmed that Winehouse died of accidental alcohol poisoning.
---
Check out some great Wallpapers from the "27 Club"